Our family recently made the huge commitment to adopt a rescue puppy. With three small children, it was important to find a trainer who would help us to incorporate our dog into our family. Karen came into our home and not only helped us train our dog, but also educated us on our dog's needs and how she could safely coexist with our kids. She loved our dog and helped us to become confident and responsible dog parents.  We would absolutely recommend Animals Manners and plan to continue on with additional sessions as our dog grows.
Karen is one of the kindest and most patient people I have ever met. She was recommended to me for my rescue dog Samus and took a stressed out pup (and human) and turned that stress into a training experience that made Samus and I closer then ever.
Karen made training fun and easy to understand. She not only helped with training she helped with establishing a good foundation for Samus and I. She was with us every step of the way with everything from my dogs diet to the toys I had her playing with.
Karen and her adult training course is organized and broken into week by week training steps. Everything is easy to understand and is able to be customized depending on you and your dogs needs.  Her positive training method is effective and enjoyable for you and your dog.
I highly recommend Karen and Animal Manners to anyone looking to train there pet. Whether it's for basic training or helping with separation anxiety Karen will have a solution to your pets needs.
Gracie, our 6 month old Golden Retriever graduated through the program developed by Karen at Animal Manners. We can honestly say there was a transformation in Gracie from the first class to the sixth class. Karen was great with Gracie and provided us the tools to continue training between sessions and beyond.
Her suggestions and knowledge on training and nutrition were invaluable. Karen made sure we understood what we were doing in each session. She asked constantly if we had any questions. This give and take in the process helped to reinforce what had been taught. The key to a well trained pet is practice, practice and more practice and Karen provides the tools to be successful.
Without hesitation we would recommend Karen to any pet owner who is serious about investing the time and effort to have a wonderful pet.
I highly recommend Karen Gordon Betournay to all my dog loving friends. She understands dog psyche and that of their caretakers. My Nena lived on the streets of Puerto Rico for the first two years of her life, then lived in a Puerto Rican shelter for a few months until she was shipped to a shelter in Maine. She was there for three days before my daughter and I met her and brought her home. What was I thinking. She chewed up everything in the house; pillows, TV remotes , coats, hats, beds. On walks, she lunged at cars, children on bikes, trucks, runners, and especially other dogs. During my two week grace period afforded by the shelter, I strongly considered returning her—too much energy for this 70y/o woman. But, I couldn't. We attended 2 different training groups which helped a bit and then we met Karen.
Karen explains dog behavior. She coaches you on how to connect with your pet. Her joy and love for dogs is so contagious. Her methods are all positive and not punitive. She has so many practical and effective training methods.
Karen is the best. And Nena is my forever dog.
I recently engaged Karen to help me work through a few key challenges I was experiencing with my pup Maggie. Maggie, during this pandemic, has been 'finding her voice' and unfortunately had been training me to give her things when she wanted attention when I was on zooms or busy working and unable to give her constant attention. Through virtual instruction, Karen helped provide me with the tools and insights to help reset my own behaviors with Maggie in order to adjust how Maggie looks for attention – and her behaviors have already been changing. Instead of barking to get what she wants she will sit quietly in front of me. She has been barking less and is learning that to get my attention 'less is actually more' and when I see her demonstrating positive behaviors I can then reward her with attention or small treats. Karen is incredibly knowledgeable and just lovely to work with!! Thank you Karen!
Karen was a fantastic teacher who customized six wonderful online training sessions for our standard poodle. For consistency, she met with the whole family (dog included, of course!) together on Zoom and gave us detailed weekly coaching.  Although the lessons were virtual, Karen was able to see exactly how our dog responded and help us improve our training skills. Each lesson started with valuable Q&A about our progress, and Karen patiently answered each question. Most of all, we loved Karen's compassion and genuine understanding of our dog's personality. We look forward to more Animal Manners training sessions in the future!
When we adopted our new puppy, Sheppie, in the midst of the COVID pandemic, we feared that finding a safe training option might be a challenge. Luckily we were referred to Animal Manners, where Karen offered multiple safe virtual training programs to fit our needs! Karen's positive reinforcement training techniques were exactly what we were looking for- encouraging positive behavior and allowing our training sessions to feel like playful bonding activities with our puppy. Karen is patient, kind, and so knowledgeable, and has been the best resource for training our energetic puppy.
I know that some people may be hesitant to attempt the 'virtual' training route, but we are here to tell you how successful it has been for our family! Karen went above and beyond to provide us with all the resources we needed via email as well as mailing us full packets of information. Our virtual sessions included both Karen demonstrating the techniques with her adorable dogs, as well as observing us performing them with our Sheppie to make sure we were doing it correctly! She made each session so personal and specific to our needs, even from across the computer screen.
For anyone questioning whether virtual training is 'worth it,' the answer from our opinion is a resounding yes! We are so appreciative and thankful to Karen for all of her wonderful techniques and training, and we have already seen such a change in Sheppie's listening skills and behavior. We would recommend Karen's wonderful training program to any dog owners! Thank you endlessly for all you have done for our family!
Our 8 month Chocolate Lab, Jackson, just graduated from Animal Manners' Adult Manners class and we could not be happier with the results. Karen is extremely knowledgeable, patient and kind and worked with us to make sure we hit all of our goals in the 6 week training class. She really understands it's not just Jackson who needed the training, but also his humans, showing us how to train, and even went the next step to make sure we understood the WHY behind it which was a huge help. Karen made sure all of our questions were answered, even recommending local doggie daycare centers, toys our lab would love, and food and treats of course.
In 6 short weeks, Jackson learned to sit, lie down, stand, wait and much more. While we still allow for some puppy moments, Jackson's behavior has improved tenfold and we could not have done it without Karen at Animal Manners. We highly recommend Animal Manners to anyone who is looking for training for their pets!
My husband and I first met Karen of Animal Manners six years ago, right after we adopted our 11 month old dog. Hetchie had already lived with three different families before ours, and he was extremely anxious. He reacted to all people, including us, with fearful aggression.  He was very scared AND scary. Karen was able to explain to us what was going on in Hetchie's head and educate us on how to win his trust.
Although we had owned a high-maintenance dog before, we just didn't know how to handle this new one. Calling Karen may have been the smartest thing we ever did…..If not for her help, we would definitely not known how to keep him!
Since then, over the years when different challenging situations come up, we call Karen to help us help Hetchie. She always has the simplest and smartest solutions to all our training problems, always using positive reinforcement methods. Her professionalism is top-notch, and she clearly LOVES what she does.
Thanks to her, our once difficult and troubled dog is now very happy, comfortable, friendly, and well-trained – and so are we!  We cannot imagine life without our Hetchie and we are grateful every day that we were able to give him a good home. We simply cannot recommend Karen enough! Thank you!
Hi Karen! I was just loving up our little Benny and thinking of you. It was such a gift meeting you and having you in our lives. The insight, education, and support with his training has been so invaluable in enabling us to connect with him. He's come a long way and is a bit of a love sponge with those he's comfortable with. When you helped manage our expectations with him it provided him the "space" and structure he needed to feel safe and protected.
So long story short, thanks again for sharing your wonderful insight as it's helped us bond with and appreciate him as his own unique little being.
Thank you!!!!!!
When our daughter relocated across the country she left her 3 year old rescue dog Franklin with us.  We subsequently moved to Hampton, and in short order realized that we needed some help getting Frank to trust us. A new home and new roommates were a little more than he was comfortable with!  A neighbor recommended Karen at Animal Manners and she has done an amazing job of teaching us how to read Frank's body language and encourage the right behavior.  Karen has an amazing ability to see the world from the dog's perspective and recommended slight changes in our routines that have made an enormous difference in our home. We have implemented all of the changes Karen suggested and practice regularly with Frank. The positive reinforcement methods she uses make training fun and allow us all to enjoy living together!  Now we can see his personality fully and he is a happy, social little guy who is very comfortable in our home.  Frank LOVES Karen and we recommend her to anyone looking for help with animal behavior.
Hi Karen,
Alex and I wanted to follow up with you now that it's been a couple of months since we finished "our training". ENZO has become such a wonderful addition to our lives in more ways than we could have imagined. We've continued our positive reinforcement training with him as a routine part of our daily activities and rarely have him out without his treat pouch strap at our side.
We can't thank you enough for giving us the foundation for us to develop a healthy, happy, fun loving relationship with our latest member of the family!
Wishing you the best,
Chris and Alex Auty
Karen –
I hope you know how much we appreciate you giving us the stepping stones to make Willow such a great dog!!!!
We cannot express enough the high regard we have for Karen and her positive training style, not just with Willow, but for us as owners as well! She was able to explain and demonstrate the positive training methods in easily understood terms for myself and the Lieutenant. We have both had dogs most of our lives, but only knew the kind of "old school" ways to get your dog to behave.  Never in our wildest dreams would the word "YES" in a positive tone with a little treat hold so much power.  Karen showed us that in any situation with Willow, the more positive we were with our response, the quicker Willow was to correct the behavior she was exhibiting.  Karen volunteered her time to help us begin this journey of training the first ever Comfort Dog for the Greenland Police Department.  We continue to work on the basics like, sit, stay, down for durations, even using a bell to go outside. Can't wait to move on to the next level with Karen!  Honestly, we were a bit overwhelmed until she came through the door.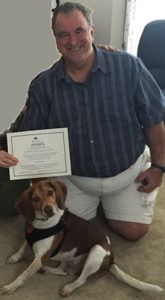 In order to understand what an amazing job Karen did, you have to understand where we started with this dog.  We adopted Petey Elmer from a shelter in Alabama.  We knew he came from a hoarder situation.  We were told he was house-trained and crate trained. He wasn't.  When my husband and I scrolled through the pictures and descriptions of adorable dogs to adopt, we never considered dogs that weren't house-trained.  We didn't feel we had the skill or patience for house-training a dog.  And this was a dog, not a puppy.  He had spent his three or four years of life not being housebroken, and now we were trying to teach him that 's not okay. Talk about teaching an old dog new tricks!  When the shelter said 'house-trained' they meant he had spent one week in a home with novice foster care providers.  Other than that, HE HAD NOT LIVED INDOORS!   He did his business indoors, randomly, more than a dozen times a day! Before this review gets too long for you to read, I will fast forward to the present and tell you that Karen trained us, trained Petey Elmer, and within a matter of weeks we have a sweet dog that not only never does his business in the house but actually rings a bell to say "I'd like to go out now please."
Karen is extremely knowledgable.  She does NOT bully your beloved furry family member or show him who's boss.  She shows you how to understand your dog, and shows your dog how to do what you need him to do.  Karen's methods are kind, gentle and completely
We adopted our labrador mix, MoonPie, from a rescue in Tennessee. She was found laying on a four lane highway, pregnant and thin. A compassionate woman rescued her and took her home. When she arrived off a transport truck, we knew we had a sweet dog but needed the right trainer. She had been through so much we searched for a positive trainer who could teach us how to develop our communication and trust with our dog.
Enter Karen Gordon Betournay of Animal Manners! Right from the start Karen showed us her positive training techniques that seemed like a miracle. Moonpie responded enthusiastically at every turn.
When we bring a dog into our life we believe it is a long term commitment. Spending time with Karen taught us how to reinforce the behaviors we wanted. Karen is such a competent and organized trainer, she made all the difference. She arrived on time for our lessons and was incredibly prepared for each time.
I have worked with many dog trainers in my life and Karen is simply the best. After each session we had fun homework for the entire family to work on between our meetings. This helped us to stay engaged with Moonpie and reinforce the behaviors we were building.
We did have our challenges with Moonpie's fears, but Karen was able to problem solve every issue.
Today, one year later, with Karen's guidance, MoonPie is a certified therapy dog! She brings love and compassion to people who are homeless residing at a local shelter.
We highly recommend Karen Betournay, for any canine. Whether you have a new puppy who needs to learn the basics or an adult dog needing some help reinforcing behaviors, Karen is the right choice! We give Karen five stars!!!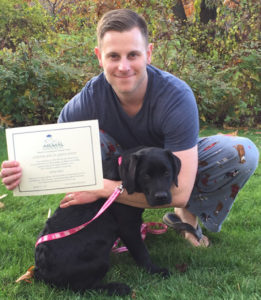 "Karen is an absolutely amazing trainer. She uses positive reinforcement with our puppy, which is awesome. Having a puppy can be stressful when you've also got two little kids, but Karen has made it a lot easier by giving us the proper tools to raise an obedient and happy puppy."
As a busy, three doctor practice we encounter a variety of behavioral issues, both large and small. We pride ourselves on the level of care and service we provide to our patients; we expect the same from the people with whom we refer and partner. Karen Gordon Betournay at Animal Manners always exceeds our expectations. The dogs respond to her patient and caring manner. Clients find her approachable and her expectations reasonable. She is our "go to" resource for all our canine behavioral challenges. We wouldn't trust out our patients and clients to anyone else.
"We can't thank Karen enough! We learned so much about our 1 year old puppy, Zero. We had no idea that he had such a hard time with change of any kind. We were unable to recognize his anxiety until we met with Karen. Now we are much more understanding and are able to really help Zero overcome these fears he has developed. He has come so far in just the few lessons with Karen. Simple changes like moving the food bowl and ignoring some bad behaviors has allowed us to move forward with our progress immensely and Zero is a much happier pup! Our daily walks were a challenge, but one walk with Karen has changed everything. Our walks are much more enjoyable and Zero is really well behaved and a proud pup! I no longer have fears of guests coming over and being introduced to a very excited dog. Karen has taught us some changes that help both Zero feel safe and our guests feel safe, which is so helpful. A lot of my worries have gone away and I know Zero is a much more relaxed pup after we have been able to work with Karen, so thank you!!"
We came to Karen in April of 2015 to help us with our 7 year old dog, Henry, who was experiencing extreme separation anxiety. We worked extensively with Karen for five months and in September reached our goal of being able to leave Henry alone for four hours! We could not have done this intensive behavior modification without her expertise. Thank you so much for giving Henry back his life, as well as ours!
Karen is a true professional and master of her craft. I have used her services on three different occasions and the results were simply incredible.  Our dog Ruby was able to respond to a variety of commands both verbal and hand commands after just the first session.  I would strongly recommend that anyone who is serious about training their dog consult with Karen.
With my highest recommendation,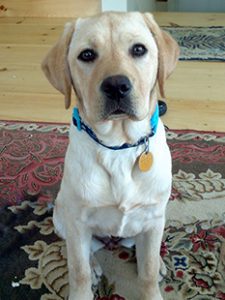 I forgot how much. work puppies are! We moved into a new house, picked up a two month old puppy, and celebrated Christmas all in the same week. Christmas over and the house under control, I decided we needed to get the puppy under control. Karen stepped in with her quiet voice and gentle ways and within weeks everyone was much calmer. Puppies learn very fast and without some direction, not all the right things. Of course, we needed some management also, We needed to give up the "no" word and replace it with positive reinforcement and lots of " good girls'. It worked, we have a pretty good-mannered puppy, we are a work in progress.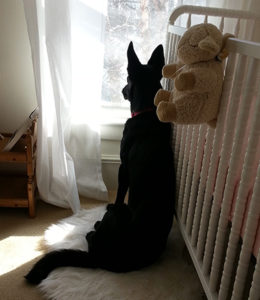 When we decided to rescue a dog that was described as "difficult" we knew we were in for a challenge, but Sable ended up being far more than we bargained for.   After finally admitting that we cannot do this on our own we contacted Karen at Animal Manners.  Karen's calm, caring and patient demeanor with Sable (and us) has helped us earn Sable's trust and gave us the skills to turn Sable into a loving and loyal companion who is eagerly awaiting the birth of her future best friend.
We called Karen to help us train Milo, our newly adopted rescue dog.  We were only familiar with a correction based approach to training, so "No Milo" were the two words being used most frequently prior to calling Karen.  She taught us to train him with a positive reinforcement. We were skeptical that Milo could be trained with praise and rewards but Karen's training methods worked so well that a year later when we rescued another dog we called her again.  Milo and Bean are happy, well trained members of our family , thanks to Karen!
When we first got our Jack Russell Terrier (Trevor) a close friend recommended the services of Animal Manners. Karen was such a welcome help when it came to training Trevor, as he has a lot of energy. The tips and techniques that Karen provided during the in-home training made all the difference. When the course had come to an end I do believe that Trevor missed seeing Karen each week. We can't thank Karen enough for showing us that speaking calm and confidently goes a lot further than screaming and yelling. Trevor is turning into a wonderful Jack and we Karen to thank for getting us off on the right foot!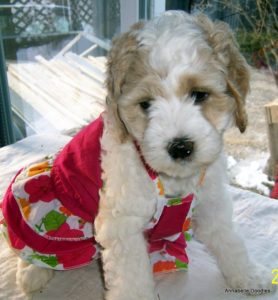 I have used Karen's services exclusively for her testing finesse with regard to "puppy assessments" on each of my litters. Karen is very careful, thorough and truthful in this regard. She is quick to pick out the pups that need more attention or social skills and that is a critical point for a pup to become successfully placed. Karen's training credentials give her a unique insight to possible placement issues when perusing my applications for each puppy. Because of her suggestions, I have had a very high "perfect home" placement record.
When my clients ever have a question about their puppy's behavior development, I know that Karen's expertise will provide the answer. I consider using Animal Manners a valuable asset to my breeding program and my clients are always impressed that I provide this service from such a qualified individual.
Hi Karen,
Thank you so much for sending us these pictures. You can see how much Hershey adores you by the way he's looking at you!
We can't thank you enough for all that you taught our family and for your patience dealing with new dog owners! You've given us a lot of tools, confidence and common sense. We'll be practicing all summer and looking forward to our next group of classes!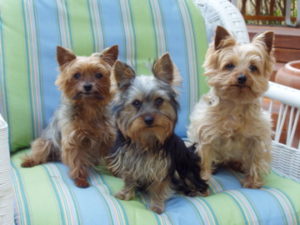 I met Karen 9 years ago when we acquired our first Yorkie, Angus. I had always been around animals growing up, even doing dog obedience in 4-H, but it had been a while so I thought I could review how to "train" Angus. We did a full 6-week obedience course.
Karen not only deals with the training aspect, but educated me on nutrition and manners. Angus has gone on to do many modeling jobs for pet magazines. Talk about an animal's eyes lighting up when they see someone, you should see Angus when Karen walks in the room. Angus has a sister, Sabrina, and newly acquired brother, Ace (they also model), so Karen and I have an ongoing relationship with my four legged "yorkie kids." She never ceases to amaze me with her truly natural talent, and because of her my dogs have "Animal Manners."
When I first got Koda at 10 weeks, I knew I wanted to get started on a good first step (paw) in training. Working with Karen was the best thing I ever did. Her gentle manner and training with my dog as well as myself was a great start! Bravo Karen! Because of working with you, Koda is one of the calmest Westies in NH.
Karen was instrumental in helping me help Henry, my wild Wheaten terrier, learn 
Adult Manners
. He was 10 months old, not neutered, and used to the free and easy "dorm life"—a challenge to say the least. Henry respected Karen from the moment he met her, and responded well to the positive renforcement method of training she taught me. He's still wild, but in a much more respectful way, and we have the foundation for a lifetime of learning together. We volunteer with the 
ElderPet
 program as a Delta Society Team—great fun.
In July 2000, my family decided to "foster" a German Shepard/Husky mix from the shelter. We named her Bella on the way home, need I say more? Our veterinarian estimated her age to be 3 years old and she clearly hadn't been trained. We weren't sure what to do, and Bella needed direction. My sister told me about Karen because she had two dogs that Karen was able to teach/train compatibility to.
We had Karen come to our home for one-on-one training, which I must say is incredible! It is stress free for your pet, and being in the home is perfect because this is where all the training happens. Karen's positive training techniques coupled with her insight and calm demeanor were exactly what Bella needed and responded to. She learned quickly and easily because of Karen's patient, reward-based methods. Sadly, our beloved Bella passed last summer…a truly heartbreaking experience. When I informed Karen of Bella's passing, her compassion, kindness, and understanding was genuine, and it was a comfort to me.
In fall of last year, we found ourselves ready to take on adopting another dog, Sophia. Sophia came from Alabama, is 3 years old and had no training at all…she wasn't even housebroken. We tried to train her at first, and this only led to frustration and anxiety for us and Sophia. I called Karen. Once again, Karen's techniques have been 100% successful! Sophia is a great little girl and we have become a family together. I would not hesitate to recommend Karen to anyone. Regardless of what is needed for training, she has the answers—they are kind, respectful and proven successful.
At fifty years old, my husband and I became first time dog parents. We are so grateful for all that Karen was able to teach us, and Regal the Beagle. This dog is such a delight to the whole neighborhood. I'm not exaggerating—I walk him around the block and children call his name and come running out to him. I love this dog so much, I could have easily spoiled him into a creature that no one wanted to live with.
Karen showed us you don't have to yell or bark orders at a dog to teach him and discipline him. My 89-year-old father-in-law was so impressed with his behavior. I asked him if he had dogs when he was growing up. He said "Oh, yeah. We had dogs—but nothing like this!"
Karen, you really taught us how to understand the dog, and how to get him to understand us. When there's a loud noise, like thunder or firecrackers, Regal's reaction now is to look at us. When we don't get excited, neither does he.
This dog was returned to a shelter twice before we adopted him. He was not a new dog when Karen came to help us train him, but he learned quickly under care. The money spent on individual training was well spent. I have since talked to many people who said their dog didn't really learn much of anything in group obedience class they attended. I can't begin to calculate the value of the increased enjoyment we get from this dog because we can really communicate with him.
If we ever get another dog, the first thing I'll do is call Animal Manners.
Karen has trained us along with our many dogs over the years. Her calm and consistently even demeanor are marks of her professionalism. I have referred many friends to Animal Manners. This behavior-based training respects the animal and the relationship that animal has with the family, human and canine.
As a person that has never had a pet, I hired Karen not only to train my new puppy but to train me. Karen's soft-spoken and gentle way with Sophie, my Shih Tzu, was such a surprise to me. She managed to teach Sophie many commands with a soft, subtle way. I wanted to have a good experience as a new dog owner and Karen was able to make that possible.
Karen,
You were wonderful helping us with our baby Berner Clementine. As first-time dog owners, you provided us with the necessary answers to understand our newest family member. When we met, she was about a 14-pound 10-week-old puppy trying to figure out how to keep her legs under her. It was a pleasure having you guide and train us with her and you did it with your knowledge, TLC, and humor. Your expertise and helpful tips worked well. In addition, you were just a phone call away, available when we had questions between sessions in your reassuring manner. As the youngest member in our family, she's grown to be a 75-pound, well-mannered Berner.
Thank you again for helping us better understand our youngest four-legged "baby!"
Karen not only teaches you how to train your dog but she teaches you about dog behavior and the human-canine relationship. This gives you a greater understanding of training techniques, which helps you train your dog more efficiently and build a great relationship with your dog. Thanks to positive reinforcement training, my dog Aspen loves to train and learn new things.
A few months ago I got the most adorable little Chihuahua, against the advice of many. I immediately called Karen at Animal Manners, and in 6 easy lessons I now have the sweetest, completely socialized little puppy. She is like a little dream, very well behaved. We got through all her little annoying puppy stuff so easily. I really enjoyed working with Karen because her approach is gentle and positive and I think my puppy learned faster in that environment.
I just wanted to let you know how much I appreciate your work and how much Oscar learned from you. Keep up the great work. I wish you trained for show. As Oscar enters his teens I'm sure I will be begging you for help….I'm keeping my fingers crossed that he won't be that bad. Anyway, thank you again for a job well done.
Years ago, we'd taken our Rhodesian Ridgeback mix puppy, Chance, to a local dog trainer for basic obedience lessons. At the time, we also had an older Collie mix with an extremely calm, compliant temperament, but we wanted to get the new pup off on the right foot and thought we could use a refresher course ourselves. After some convincing, we conceded to the trainer's methods of using a prong collar to issue "corrections" but after some time expressed alarm that Chance was exhibiting early signs of fear-based aggression/reactivity (towards other dogs). Our concerns, however, were dismissed as "normal" behavior and unfortunately the situation only worsened. Finally, after attending several of the trainer's group classes for "problem dogs" only seemed to deepen the problem, it became clear that we needed an entirely different approach.
With positive training techniques, a humane, no-pull harness, and a combination of private and group lessons for reactive dogs, Karen helped us to better understand and manage our boy's issues, and these days he's an easygoing guy so long as we don't put him into situations that will overwhelm him. Sadly, we truly believe that positive training would never have exacerbated his reactive behavior in the first place, and that when our initial concerns were summarily dismissed we missed a short-lived opportunity to give him the tools he needed to feel confident and secure, and to move forward in a positive direction from the earliest possible age.
What we've come to appreciate, and hope others will as well, is that "correction-based" training reinforces negatives by marking "Do Not's" and in doing so inherently undermines the bond between the dog and its owner. And when employed with a dog with innate behavior and/or confidence issues, the combination can be disastrous. In contrast, positive training capitalizes on dogs' natural social instincts and desire to please, while building the animal's confidence and deepening the bond between dog and owner.
Lesson learned: We adopted another puppy last year (a Bahamian Potcake), and with Karen's instruction Marty is growing into a well-adjusted (and increasingly well-behaved!) dog who handles a broad variety of social situations with ease. Thanks, Karen!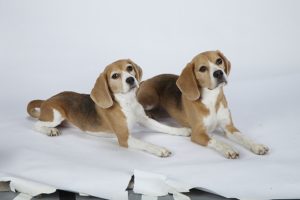 We were hiking at Diana's Bath with our two Beagles (Missy and Bella) when we met Karen and her family. We stopped for a few minutes to chat and I was immediately impressed with Karen's kind, gentle manner as she spoke to two frisky Beagles in the woods!
Karen asked if she could photograph our Beagle girls, then much to our surprise we learned that she was a professional dog trainer! We were very excited when she asked if she could use the girls in a photo shoot modeling dog clothes.
Creativity is the key to keeping Beagle girls happy and with all the snow this winter Karen's email for the photo shoot arrived at the perfect time.
We did not know what to expect when we arrived at the studio, but my heart and mind were open. It was one of the best afternoons I have had in a long time! Watching Karen work with Missy and Bella brought pure joy to my afternoon. Karen's God given talent was evident from the beginning. Her professional and gentle manner had the girls eating out of her hand within moments, and as they followed her around the studio their tails could not stop wagging! They were having a blast!
Beagles love to work and Karen worked them with gentle guidance. I never heard her speak to them, if she did it was in a whisper, and they obeyed her every command. She dressed them in many different outfits and different poses, each outfit and pose more precious than the one before.
I had no idea how much work was involved putting together photographs for pet catalogues until I watched the crew at work!
Karen took time to teach me a few new tools to give Bella a little more direction. I have enjoyed putting these new techniques to work and Bella has responded beautifully.
Meeting Karen Gordon Betournay of Animal Manners, Inc. and watching her work with our Beagles has been one of the nicest experiences I have had in a long time. She treated our girls with respect and they responded in kind.
Karen is a true credit to her profession. I highly recommend Karen, her compassion, kindness and understanding of our dogs was genuine.